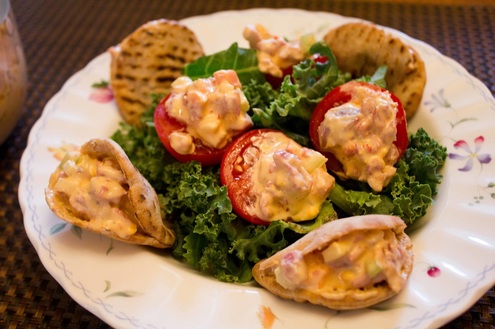 Lets take a American classic chicken salad and give it a southern twist using BBQ turkey legs and our feature ingredient Pimento cheese. Whether we use it for a wrap or a sandwich topping or on top of salad greens we can enjoy the smoky taste of the turkey mixed with the creamy mixture of mayo and pimento cheese accented with crunchy pieces of fresh veggies. For breakfast fry up some bacon pieces with diced onion; then add a couple of eggs and scramble and fold in some of our smoked turkey pimento salad mixture to start your day.

Ingredients:

1 smoked turkey leg

3/4 cup pimento cheese

1/4 cup mayonnaise

3 celery ribs diced

1 carrot diced

1/2 small onion sweet onion

1/2 tsp. onion powder

1/2 tsp. old bay seasoning

extra pimentos (optional)

Procedure:

1. Wrap the smoked turkey leg in foil and bake in a 300 degree until tender (about 3-4 hours). Dice the smoked turkey and reserve.

2. Dice the celery, carrot and onion and mix in the pimento cheese and mayonnaise. Add the spices the fold in the turkey and extra pimentos.

3. Serve over greens or as you would regular chicken or tuna salad.